Regular price
$ 69.50 USD
Regular price
Sale price
$ 69.50 USD
Unit price
per
Sale
Sold out
In Stock

In Stock - Ships within 1 Business Day.
Price Savings Chart
World's Most Concentrated Crystallizing Encapsulation Detergent
A SUPER strength "Stain-Resist Safe" crystallizing encapsulation detergent. At 1 to 2 oz dilution per gallon it was created to save professional carpet cleaners money on both product and on shipping cost. It is safe to be used on stain-resist carpets and is more powerful than competitive products that require dilutions from 4 oz to 8 per gallon.
Use more than recommended amount only if you don't like saving money!
More Info
It is very environmentally friendly... over 99.5% readily biodegradable and has a customer pleasing Sweet Orange scent.
It has exceptional grease cutting power and cleansing action. It penetrates, breaks up and emulsifies the oily film that binds dirt particles to carpet and upholstery fibers.
Its grease and oil cutting power is especially important when cleaning "Oil-Loving" fibers such as Olefin and Polyester.
Benefits
Saves you in two ways - Product & Shipping!
Excellent Crystallization!
Customer Pleasing Sweet Orange Scent
Safe for stain-resist carpet
Carpets/Upholstery stay clean longer
Environmentally friendly
Freeze-Thaw Stable
Literature
Share
View full details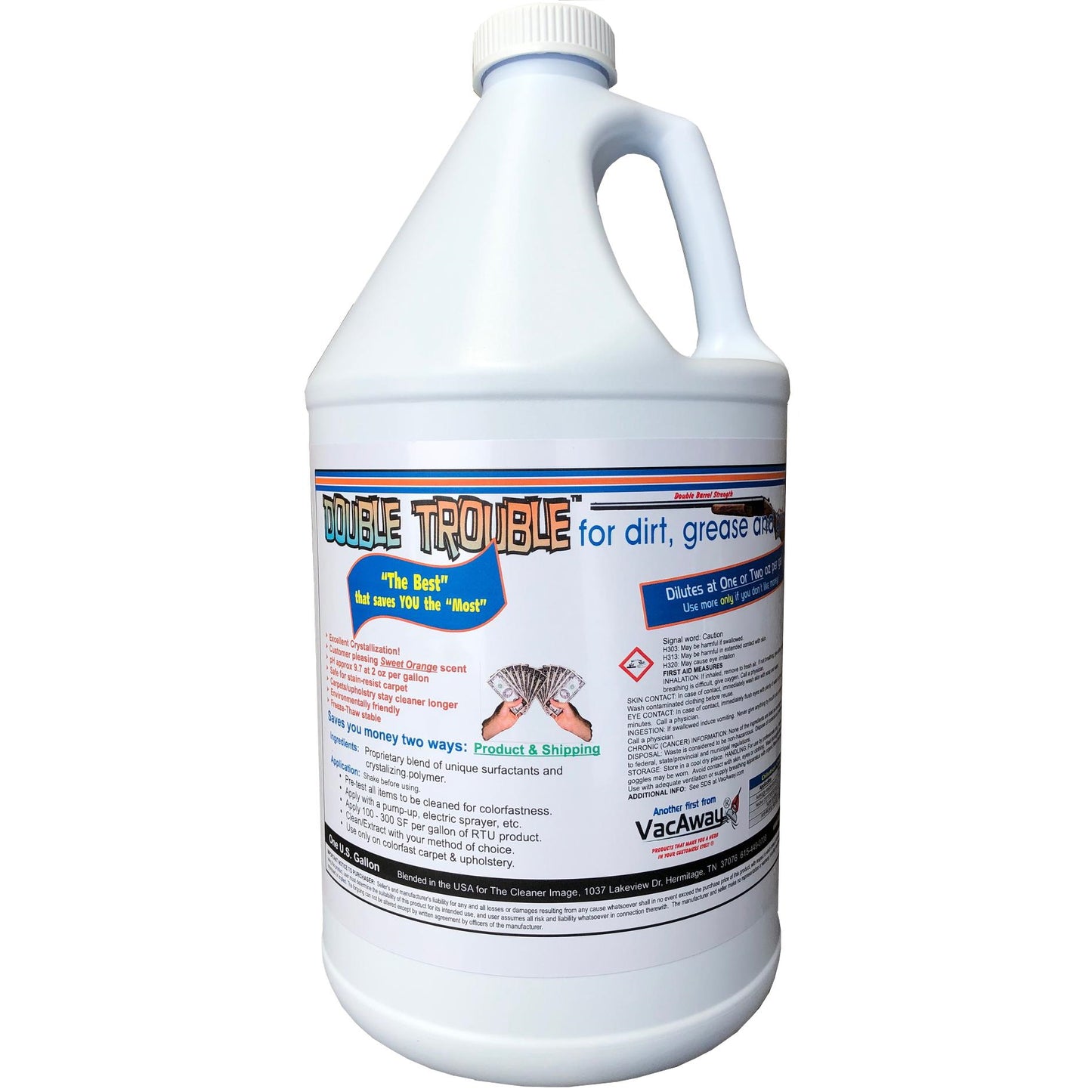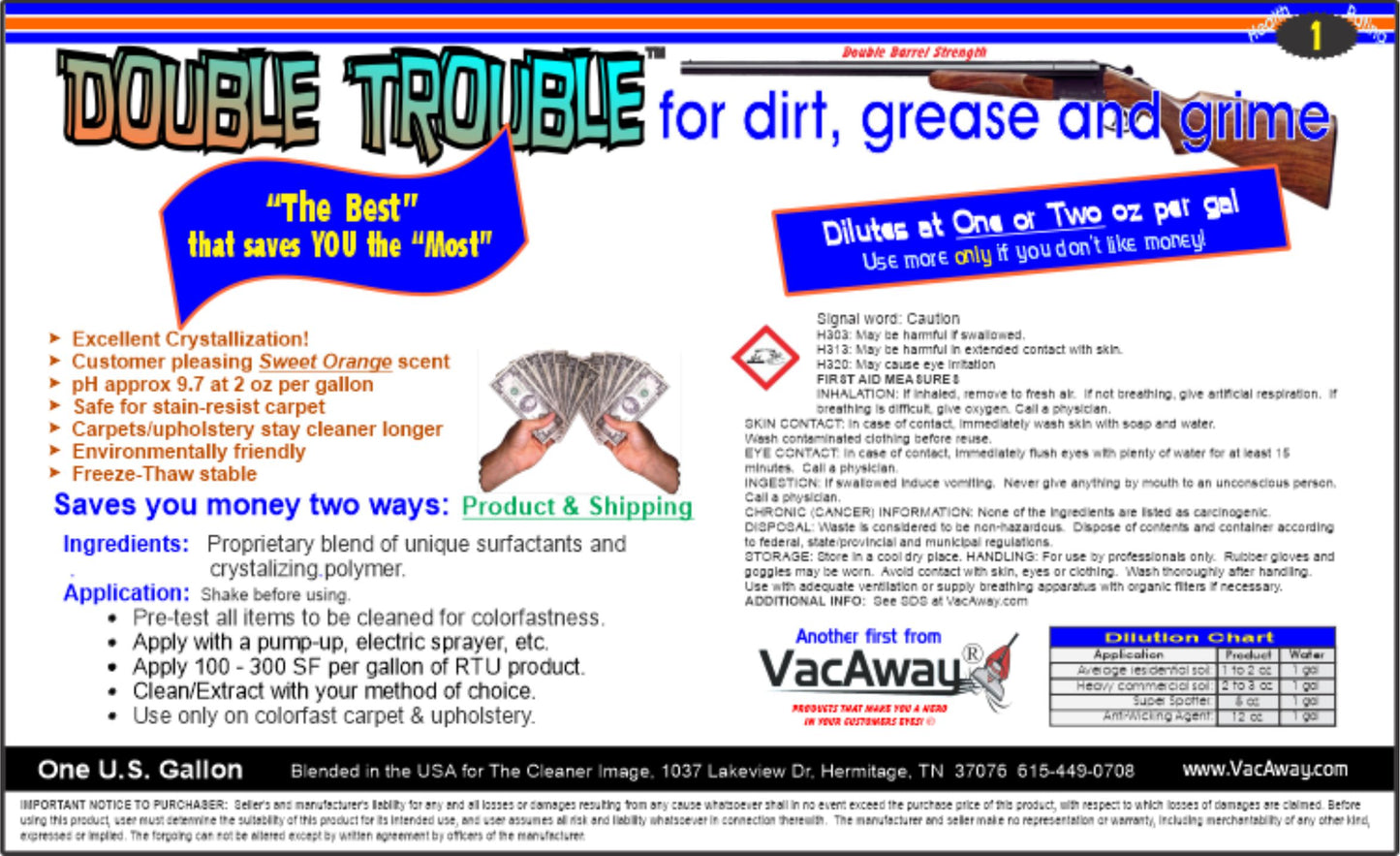 Double Trouble Comparison Chart
The chart is based on cleaning only 3000 sq. ft. per day, 260 days per year. Of course, if you clean much more you will save much more!
It is also based on cleaning approx 300 sq. ft. per gallon of ready to use product. In the real world this is usually 200 – 400 sq. ft. For calculation purposes, we chose 300 for the average.
For the average cost of most crystallizing encaps, we chose to go low. In the real world the average is usually a bit more.
| | Cost per Gal | Oz per Gal of water | # of RTU Gals will make | Cost per RTU Gal | Total SF Coverage Per RTU Gal 9300 SF per gallon) | |
| --- | --- | --- | --- | --- | --- | --- |
| Average for Most Encaps | $46.00 | 4 | 32 | $1.44 | 9600 | Half as many SQ $4.79 |
| Double Trouble | $69.50 | 2 | 64 | $1.09 | 19200 | Twice as many SQ $3.62 |
The Bottom Line?
Better cleaning results with HALF the amount of product!
For the same amount of sq. ft. coverage, the shipping cost is approx ONE HALF as much!
Best-In-Industry Cleaners
Our Best-In-Industry Guarantee ensures the highest level of satisfaction with every purchase. Trust us to exceed your expectations and deliver nothing but the best in quality and service for ALL YOUR CLEANING NEEDS!
Let customers speak for us