Regular price
$ 3,199.99 USD
Regular price
$ 3,499.99 USD
Sale price
$ 3,199.99 USD
Unit price
per
Sale
Sold out
★ Take an additional $100 off at checkout. Use code CRB100.
In Stock

In Stock - Ships within 1 Business Day.
Free Shipping

This item ships for free (Continental US only)
Industrial Strength CRB
Pro Hybrids (also called Brush Pros) are the only Counter Rotating Brush machines (CRB) that are water proof and designed to not only clean carpets, but also hard surfaces. They have a 50% stronger motor and are the best built and most durable machines in the industry. They can be used for Encapsulation Cleaning, Dry Compound Cleaning, Pre Vacuuming, Post Vacuuming, Pre Scrubbing, Pile lifting, and grooming carpets. They are one of the fastest ways to clean commercial carpets.
Stainless Steel body, compact construction, very low noise, easy to use and versatile. These machines are a must have for any cleaning business.
One Year Warranty - Parts & Labor
Share
View full details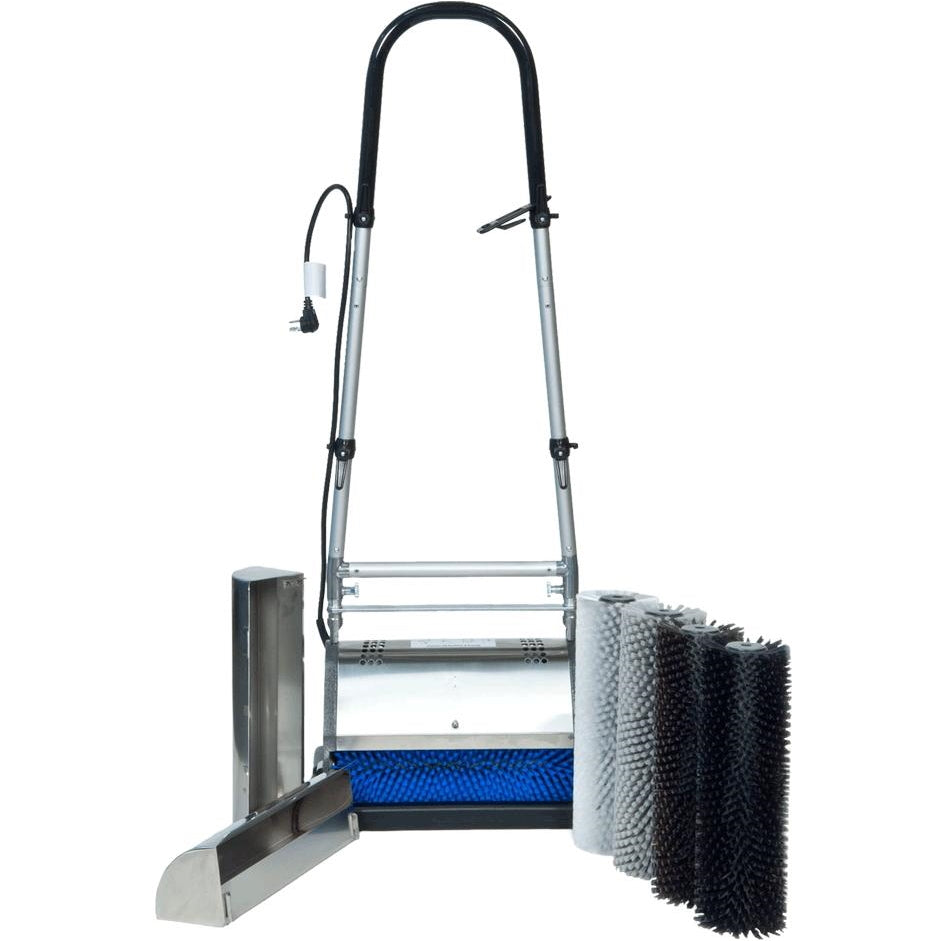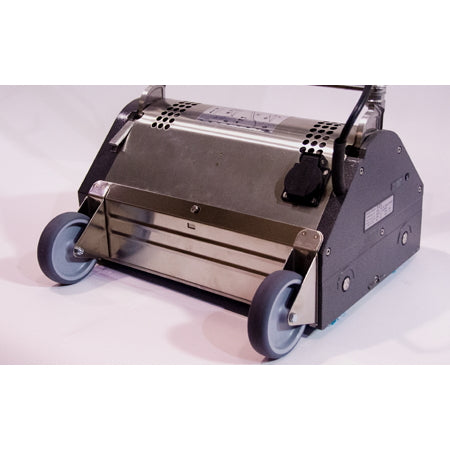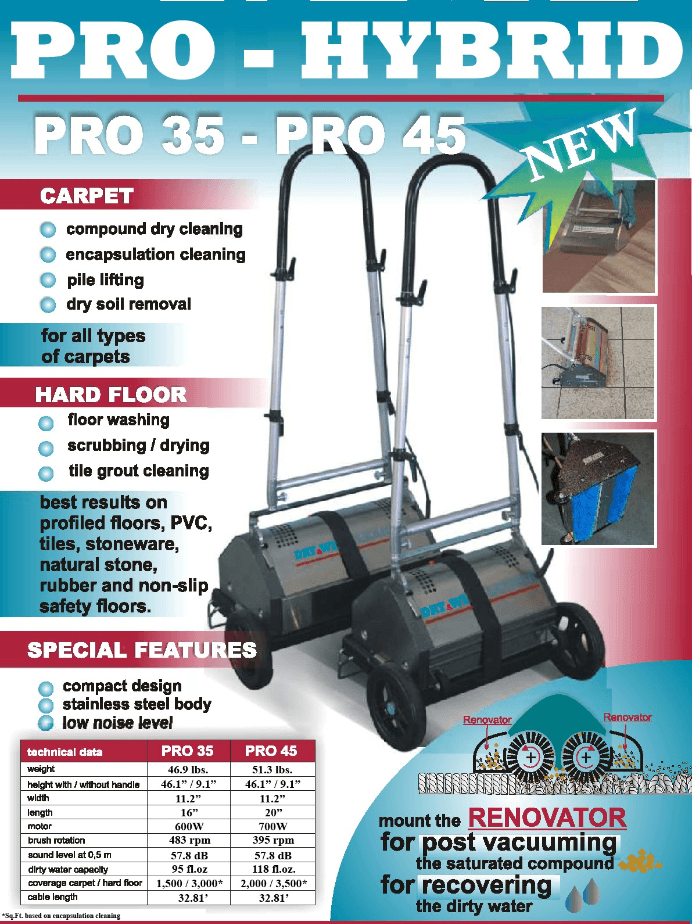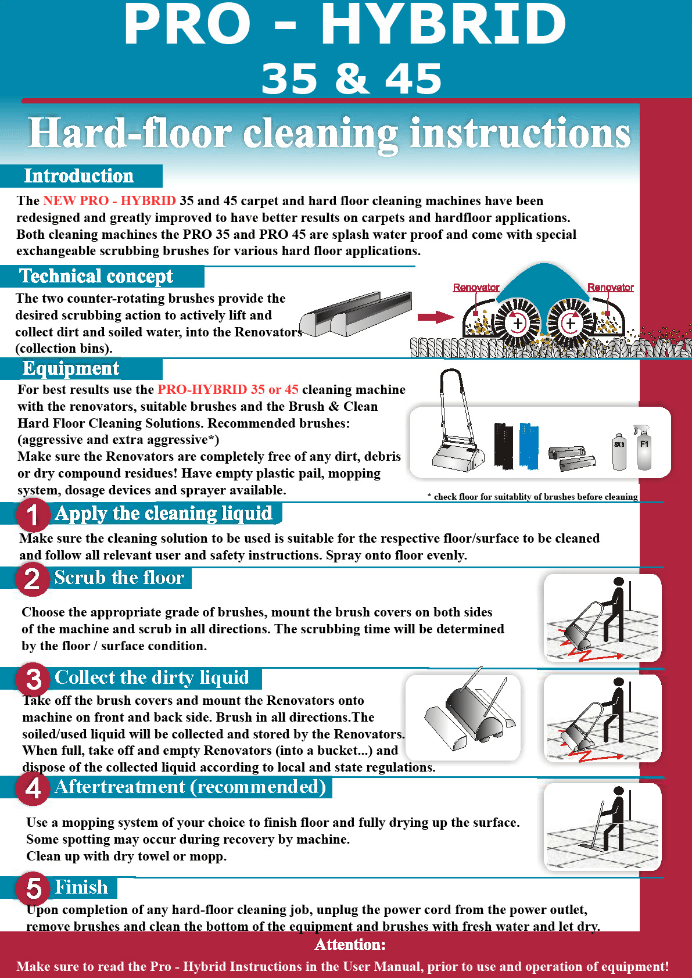 PRODUCT DETAILS
Features:
Made in Austria
Extremely Low Maintenance
Stainless Steel Body
Legendary Durability
Minimal Training Required
User Serviceable
Low Noise Level
Original Renovator Catch Tray Concept
Lab Certified Splash Resistant IP54 Specifications
Specs:
Brush Cleaning Width: 14"
Weight: 51lbs
Motor: 800W/110V/60hz
Amps: 8
Brush Rotation: 470
Why Choose A Pro Hybrid
Industrial Strength Construction
Durable stainless steel body outlasts all other materials
New motor is 50% stronger than previous models
Reputation - 20+ years of building the industry's most durable machines for encapsulation
Non-stop cleaning - Clean for over 24 hours without fear of the machine overheating
Versatility
One machine that does it all. Clean both carpet and hard surfaces equally well with one machine

CARPET

Compound dry cleaning
Encapsulation dry cleaning
Pile lifting
Dry soil removal

HARD SURFACES

Floor washing
Scrubbing/drying
Tile and grout cleaning

RUGS

Splash-water proof construction is IP 54 certified allowing you to use the Pro Hybrid in several inches of water for scrubbing submersed rugs

Super quiet operation and nearly instantaneous drying allows you to clean during business hours--opening up a world of new clients including casinos, airports, hotels, hospitals and more where hot water extraction is just not feasible.
Superior Cleaning
Pro Hybrid, prespray and dry compound are Carpet and Rug Cleaning Institute (CRI) certified for deep cleaning.
Heavy-duty motor spins brushes at an incredible 470 RPM to quickly and thoroughly clean all sides of the carpet fiber.
Included Renovators allow you to collect soil that normal vacuuming is unable to remove. This makes for a great demo. Have your customers vacuum right before you use the Pro Hybrid for dry soil removal and they'll be amazed at how much additional soil you remove.
Cylindrical brush agitation carries the soil from the bottom of the pile to the top so it can be encapsulated and removed later through vacuuming. Pads drive the soil deeper into the pile and leave "blooms" that have to removed later.
Pads are not effective at cleaning uneven surfaces like grout lines, while the Pro Hybrid excels at removing soil on difficult-to-clean surfaces.
Simplicity
The Pro Hybrid is a machine that can be used by anyone. Simply pull back the handle to start and begin cleaning carpets at a much faster rate than standard hot water extraction.
Lightweight construction and small footprint allows the technician to easily store the Pro Hybrid in a janitor's closet, in a van or other locations where space is at a premium. It also makes cleaning around furniture and other obstacles incredibly easy.
Renovator Technology
Our patented Renovator attachments are stainless steels catch trays that mount to the front and rear of the machine. When utilized, they provide the CRB machine with the ability to "brush out" soil and particulates from the carpet fibers.
When we introduced this concept, it completely redefined what a CRB machine was capable of doing. These catch trays perform two very important functions within the cleaning process- dry soil removal and dry compound removal. Use of these trays on a CRB machine will enable the user to extract particulates from the carpet fibers at a rate far superior to a vacuum.
Since pre vacuuming a carpet is the most neglected chore of any establishment, unaddressed dry soil can build up over time and can account to almost 75-80% of the overall soil load in carpet. The most common components of dry soil are very abrasive particulates, which are the real culprits in damage to traffic lanes.
This soil component causes carpets to "ugly out" before the actual lifespan of the carpet has been realized. Since dry soil is extracted from the carpet before chemistry application has occurred, much better results are attained at the completion of the overall cleaning process as well as an extension of the carpets useful life.
Advantages
Coupled with Renovator Technology, there is no better way to deep clean a carpet. These machines are ideal for scrubbing encapsulation cleaners, removal of dry compound cleaners, as well as agitation of chemicals prior to hot water extraction. They will pull dirt, hair and other residue out of the carpet that even the best vacuums would have no chance of removing. They will also double as a pile lifter and carpet groomer, leaving a signature look your customers will love.
CRB machines deliver amazing results on both residential and commercial carpet and with it's dual counter rotating cyndrical brushes, it will agitate the carpet fibers and break up tough soils like no other machine on the market.
Video
Let customers speak for us