Regular price
$ 3,199.99 USD
Regular price
$ 3,544.00 USD
Sale price
$ 3,199.99 USD
Unit price
per
Sale
Sold out
In Stock

In Stock - Ships within 1 Business Day.
Austrian CRB and Multi-Sprayer Package
Save money when you bundle together a CRB Machine and one of our Multi-Sprayers.
The amazing Austrian manufactured CRB Machines are the result of over 30 years production and development to produce a machine that is both user-friendly and very efficient. They have been specifically developed to clean carpets and hard floor by a variety of methods and has an excellent track record. It's simply a must have for any floor cleaning professional. Not to be confused with any other CRB Machine, this is the genuine original, Carpet Cleaner Industries, fully stamped and CE approved machine.
The world's greatest sprayers offer a seamless and efficient spraying experience. This sprayer is sold with two jugs, each featuring a quick-connect on the jug cap. Switching between different chemicals or solutions has never been this effortless. Ergonomics and user comfort are top priorities for the L Series Multi-Sprayer. The comfort grip stainless/brass trigger, equipped with Viton seals, ensures a comfortable and leak-free grip, even during extended use. 
Share
View full details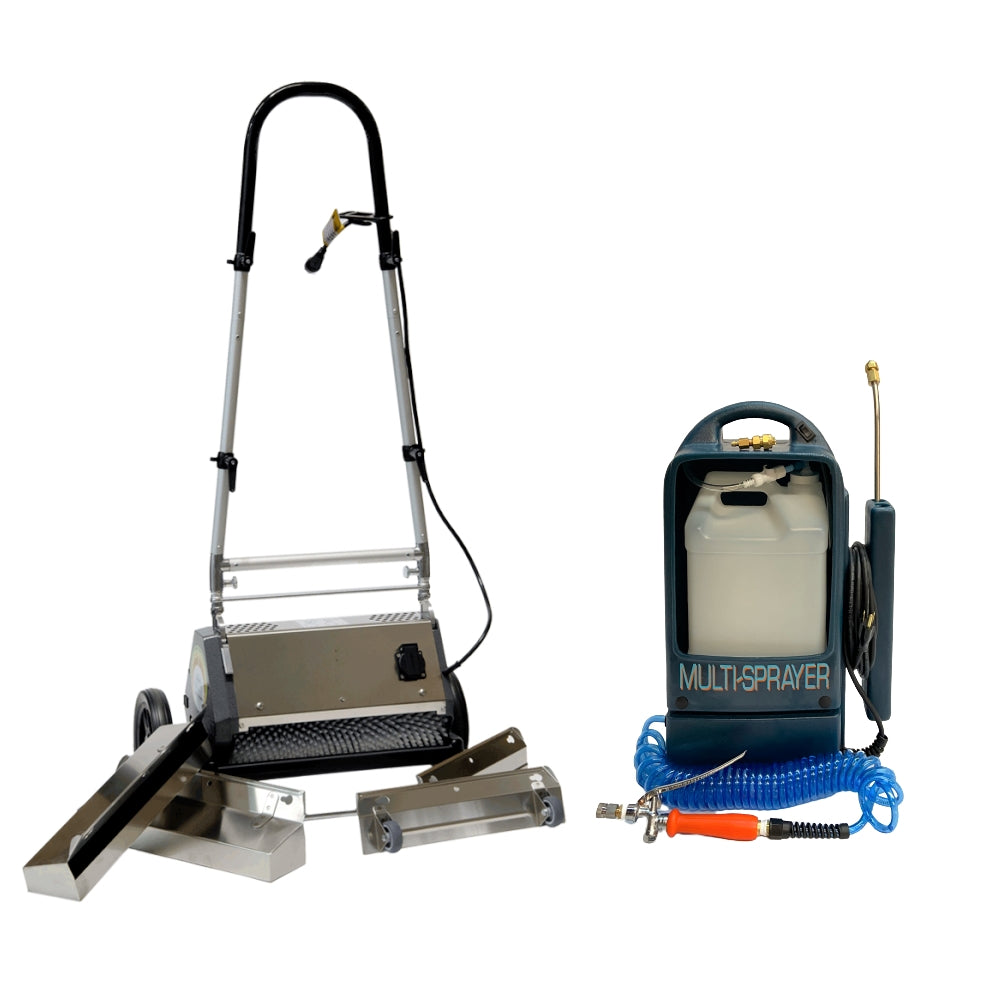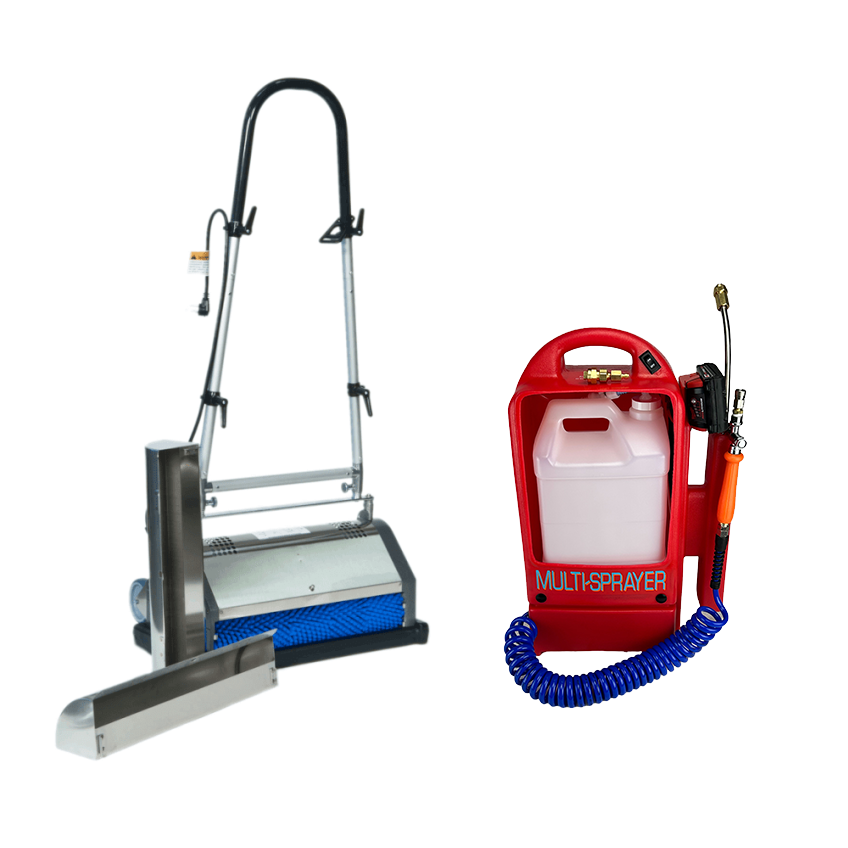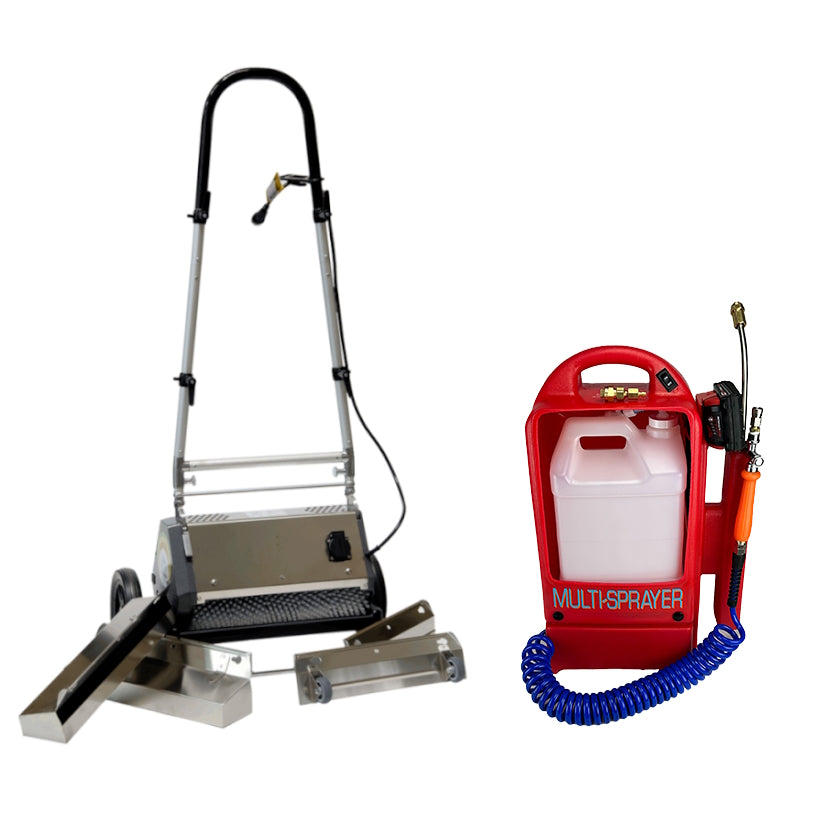 CRB Machine Comparisons
PRO 35

Features:

Made in Austria
Extremely Low Maintenance
Stainless Steel Body
Legendary Durability
Minimal Training Required
User Serviceable
Low Noise Level
Original Renovator Catch Tray Concept
Optional tandem accessory can link 2 machines for wider areas
Lab Certified Splash Resistant IP54 Specifications

Specs:

Brush Cleaning Width: 14"
Weight: 51lbs
Motor: 800W/110V/60hz
Amps: 8
Brush Rotation: 470

PRO 45

Features:

Made in Austria
Extremely Low Maintenance
Stainless Steel Body
Legendary Durability
Minimal Training Required
User Serviceable
Low Noise Level
Original Renovator Catch Tray Concept
Optional tandem accessory can link 2 machines for wider areas
Lab Certified Splash Resistant IP54 Specifications

Specs:

Brush Cleaning Width: 18"
Weight: 58lbs
Motor: 800W/110V/60hz
Amps: 8
Brush Rotation: 470

TM 4

Features:

Made in Austria
Extremely Low Maintenance
Stainless Steel Body
Legendary Durability
Minimal Training Required
Lightweight for easy handling (53lbs)
Machines have a 20+ year track record for quality
User Serviceable
Low Noise Level
Original Renovator Catch Tray Concept
Optional tandem accessory can link 2 machines for wider areas

Specs:

Brush Cleaning Width: 15″
Weight: 53lbs.
Motor: 800W/110V/60hz
Amps: 8
Brush Rotation: 470w.

TM 5

Features:

Made in Austria
Extremely Low Maintenance
Stainless Steel Body
Legendary Durability
Minimal Training Required
Lightweight for easy handling (58lbs)
Machines have a 20+ year track record for quality
User Serviceable
Low Noise Level
Original Renovator Catch Tray Concept
Optional tandem accessory can link 2 machines for wider areas

Specs:

Brush Cleaning Width: 20″
Weight: 58lbs.
Motor: 800W/110V/60hz
Amps: 8
Brush Rotation: 470
Multi-Sprayer Comparisons
M2 Series

Each unit comes with two jugs with quick connects on the jug cap for quick change. Never empty a jug, leave solutions in jug and change jugs
115-volt
70 psi Aquatec pump VITON seals
20 ft. power cord
Heavy duty stainless steel/brass trigger with VITON seals throughout
10 ft. polyurethane coiled spray hose
M units can be made with 60, 120, 170, 220 psi pumps options
Rotomolded durable shell: 22" x 14" x 6"
20" stainless steel wand with 8004 T-Jet
nozzle and check valve strainer
Extra 3" upholstery wand with a 50015
T-Jet tip and a check valve strainer

L2 Series (w/ Battery & Charger)

INCLUDES M18 Milwaukee Battery & Charger
35 Min – 4 hour Run Time depending on Battery
Comfort Grip Stainless/Brass Trigger witth Viton Seals
50 psi Aquatec Pump with Viton seals
10-foot urethane coil spray hose
ONE YEAR WARRANTY
Size: 22″ high x 14″ wide x 6″ deep
Weighs 10 pounds empty
Each unit comes with two jugs, quick change with quick-connect on jug cap
Never wash out a jub, leave solution in jug and change jugs
22″ stainless steel wand with 8004 T-Jet nozzle and check valve/strainer
Extra upholstery wand with a 50015 T-Jet and a check valve/strainer

L2 Series (Sprayer Only)

Works with M18 Milwaukee Battery
35 Min – 4 hour Run Time depending on Battery
Comfort Grip Stainless/Brass Trigger witth Viton Seals
50 psi Aquatec Pump with Viton seals
10-foot urethane coil spray hose
ONE YEAR WARRANTY
Size: 22″ high x 14″ wide x 6″ deep
Weighs 10 pounds empty
Each unit comes with two jugs, quick change with quick-connect on jug cap
Never wash out a jub, leave solution in jug and change jugs
22″ stainless steel wand with 8004 T-Jet nozzle and check valve/strainer
Extra upholstery wand with a 50015 T-Jet and a check valve/strainer
Let customers speak for us